If you missed the Cultural Lunch in March, you missed some great traditional Italian food! Prepared by professional chef, Jacopo Terzaroli, the delicious meal was followed by a presentation by his wife, Carla Contemori. I met with Jacopo to talk about his life and his profession. [Thanks, Jacopo, for the great food, and for speaking with me.]

Continue reading to learn a little about how he came to become a professional chef, his future plans to start up a business as a private chef, and his recipes from the delicious dishes he prepared for Global Connections' Italian Cultural Lunch…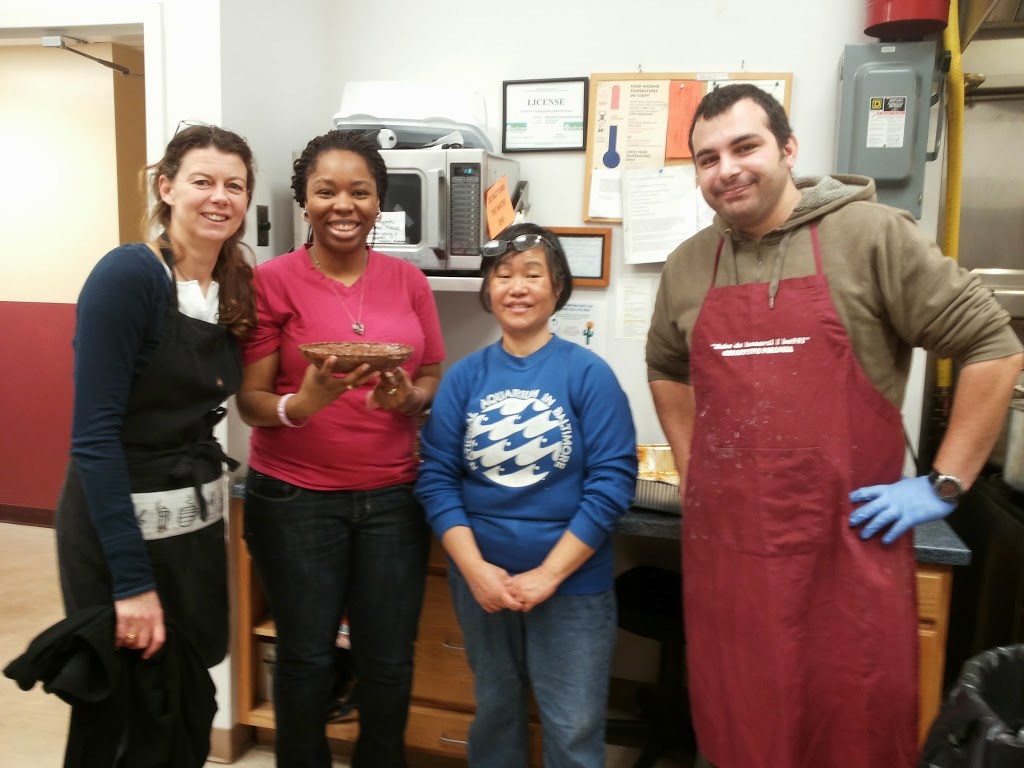 Cooking for the Italian Cultural Lunch.
L-R: Ali, Salewa, Donna, Jacopo
Photo credit: Amruta
Culinary Philosophy
"I am not a motto man," declared Jacopo when I first asked him if there was any specific principal he lived by. Over the course of our conversation, he shared a lot about how he views food, cooking, and the importance of mealtimes as an opportunity to regroup and relax and celebrate with friends and family. Leery of industrial farming (which is common in Italy as well), he believes that if we produce food merely for profit, it changes the flavor of the food. So, for example, if all meats are available the year round, and if we are told that only a few cuts are worth eating, we unnecessarily limit our own choices. If we try to eat according to the season, and if we eat a variety of food, we eat better.
Sharing food and dining together is very important to him. You are not just sharing food, "you are sharing your life!" he exclaims. In fact, Italians have a wonderful phrase that epitomizes this idea: "A tavola non si invecchia." Meaning, "at the table, one does not age." A meal with family and friends is a pleasurable and relaxing time. "If my mother calls me to dinner, I have to go right away! Everybody eats together," he says. "How can you live in the same house but eat alone?"
And most Italians, he says, cook at home. They tend to eat out less frequently than Americans do, and ordering in is very rare. Jacopo is interested in learning and perfecting authentic Italian cuisine, and sharing it widely. He started learning and cooking at a very young age.
Sous Chef at the Terzaroli Home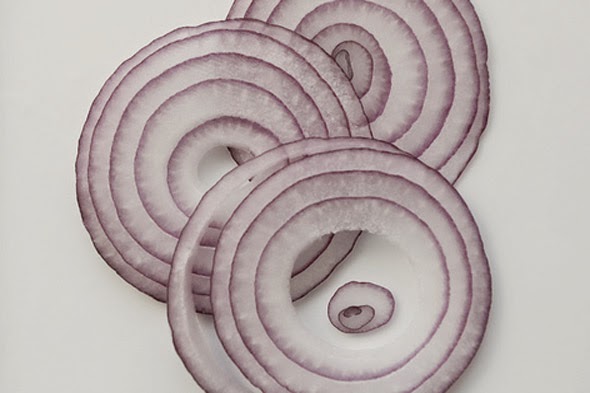 Photo credit: Stock photo off the internet!
Born and raised in Chianciano Terme, Jacopo has been cooking since he was 7 or 8 years old. His mother, an excellent cook herself, involved him in the kitchen when she was cooking. When he got better, she used to leave little notes with instructions for when he got back from school! "Chop some onions for tonight's stew."
Education in the Classroom and in the Kitchen
Jacopo's first teacher was his mother, and the second, his own experiences. As a young teen in Chianciano Terme, he often spent hours hanging out at the local butcher's shop. The owners, his friends, taught him all about their trade. Later, he went to college [to the University of Siena in Tuscany, where he also met Carla] to study Philosophy, and eventually teach high school students. He often got together with his group of friends for dinner, and sometimes cooked for them. Soon, what began as a a few, random dinners, became a regular event. Everyone chipped in for the food and drink, and Jacopo cooked up to 3 or 4 times each week. Everyone was happy…no, thrilled, with this arrangement! By the time he graduated, the certification school [to be a high school teacher] had stopped accepting applications for an indefinite period [under the direction of Italy's Department of Education]. Though initially very upset, Jacopo soon sensed an opportunity to make a profession out of his passion!
The First, and the Best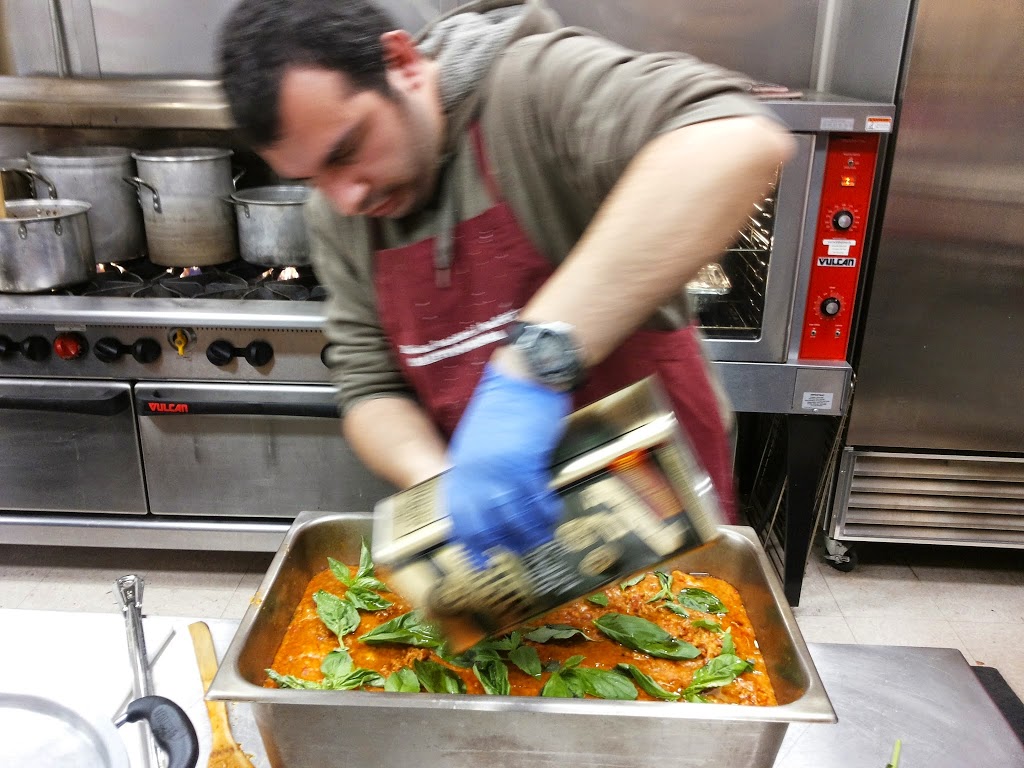 Garnishing the Pappa al Pomodore with olive oil.
Photo credit: Amruta
His first job right out of college was as a sous chef at a small 4-star restaurant. The work was hard, the hours were long, and every chef will say similar things: Cooking by itself is a pleasure but having to cook to make a profit for the owner…can be a challenge. [Reminded me of this movie: Big Night.] Jacopo knew that being a restaurant chef meant more than just cooking, and he took the budgeting/saving/selling in stride. The hardest part for him was perfecting his time management: multiple orders needed to be ready (and done just right!) at the right time, and go out to the right tables without a single mistake. This system is more hierarchical and streamlined in bigger restaurants but in small restaurants, everyone does everything. Jacopo's first job felt a little like he had been thrown in the deep end of a commercial kitchen! But, overall, it was worth it, and he learned a lot and worked at different restaurants over the years.
Of course, not all of the chaotic time spent in a kitchen is unpleasant! His best cooking experience was in September 2008, when he volunteered at a restaurant at a local live rock festival. Up to 20,000 people attended the festival over five days, and Jacopo, his co-chef and thirty volunteers served close to 5000 people during that time! They began cleaning and peeling and slicing and dicing and variously preparing the vegetables and meats about two days in advance of the festival. Six of the volunteers were dedicated to managing the fires for grilling the meats! Even with disposable plates and cutlery, every day's cooking and clean-up operation was a massive enterprise. The chefs offered two menus: a traditional Tuscan menu, with pastas and meats in ragu sauces, and a Bavarian menu with pork shanks and wursts. Needless to say, Jacopo was in charge of the Tuscan menu. It was an exhausting yet exhilarating time. And just when he thought it couldn't have gone better, it did! He had noticed one gentlemen buy some of his "Agnello al Buglione" on the first day of the music festival. This is a very traditional and painstakingly-created Tuscan dish, which was rarely seen on restaurant menus in those days. And the gentleman showed upon the second day, and the third, and ordered the same dish every day… On the last day of the festival, the gentleman walked up to Jacopo and told him that he had been eating that dish every day because it was, literally, the best thing he had ever eaten. Moments like these, Jacopo says, made all his hard work and efforts worthwhile!
Another lovely occasion was Jacopo's own wedding last year. His memories of the wedding are sweet: family, friends, and food. It was small, intimate gathering of their closest family and friends, and Jacopo and another friend (who is a chef in Denmark) cooked an innovative meal for the wedding party. His friend, who specializes in fusion food, flew over a day before the wedding. Meanwhile, Jacopo had already been prepping for a week! There were smoked vegetables, pumpkin ravioli filled with "urtica" (nettle), pear souffle, truffle and saffron cream… The morning of the wedding, the groom's first priority was a pig! He set up the brick oven, and began roasting the whole pig in it [which took seven hours to cook]….and then rushed home in the late afternoon, to clean up and dress up for what was to come next: his wedding to Carla!
Ideal Job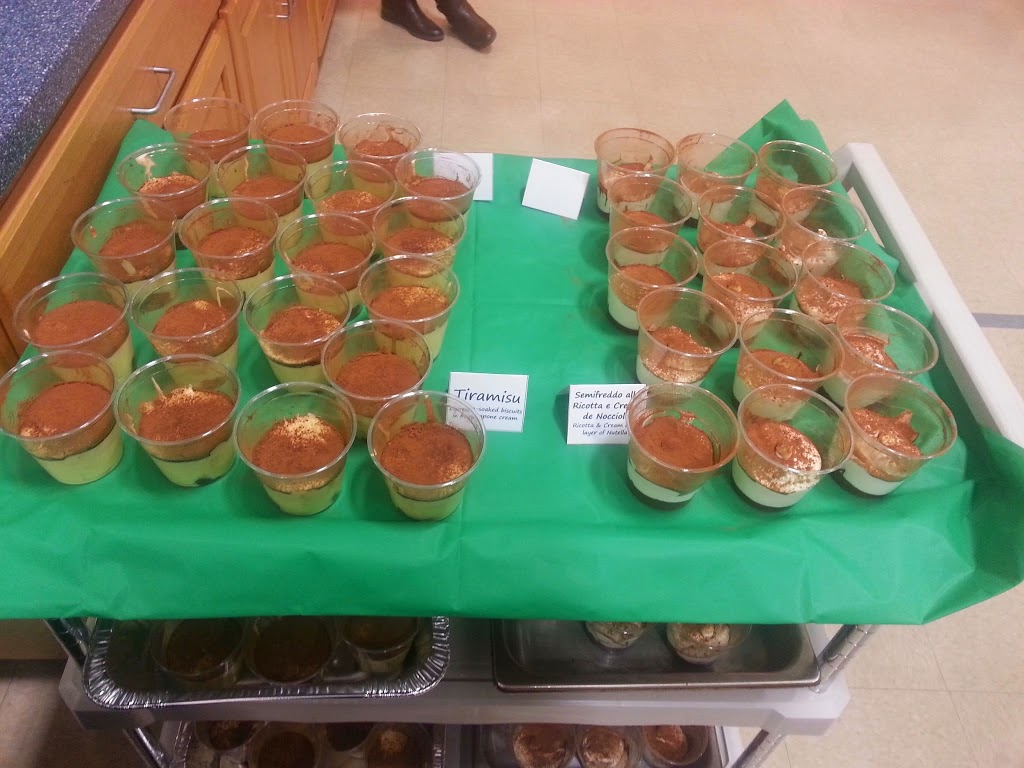 Two desserts (Italian Cultural Lunch)
Photo credit: Melike
Jacopo admits to feeling torn between the pure joy the cooking, and the constraints of cooking commercially. Most Italians cook at home, he points out, whether just for themselves or for their guests; they don't eat out much and rarely order in! And when they have to cook for a very large party, they hire professional caterers who bring a fully-functional and mobile kitchen to their home.
So, what's the ideal situation in State College, I wondered. Turns out, he's working towards it! His ideal job is that of a private chef. He would like to offer hosts and their guests a taste of traditional and authentic Tuscan or Italian cuisine in the privacy of their own homes. He could work with the hosts to figure out their budget and size of the party, purchase good ingredients and develop a menu accordingly, and eventually prepare delicious foods! He is figuring out the rules and regulations about starting his own business as a private chef, so if you are interested in hiring Jacopo for your own private party, contact him here.
Recipes from Global Connections' Italian Cultural Lunch: For the lunch, Jacopo chose typical Tuscan dishes which could be made for a large number of people and for which the ingredients were easily available and affordable. "I always respect the budget," he said and, as a good chef, always tries to make delicious food out of even the simplest ingredients. It's uncommon to have completely vegetarian dishes [many dishes use beef stock, for example] so he had to make a couple of substitutions to ensure that there were enough vegetarian options: he used vegetable bouillon instead of beef bouillon, and did not add anchovies to the Puttanesca sauce.
And the one thing he just cannot do without? Extra virgin olive oil. Preferably cold-pressed.
Scroll further to check out his recipes…and get cooking! And you can always contact Jacopo himself for professional service.


The Coccio Meat sauce is used in different recipes. Click here for Jacopo's recipe!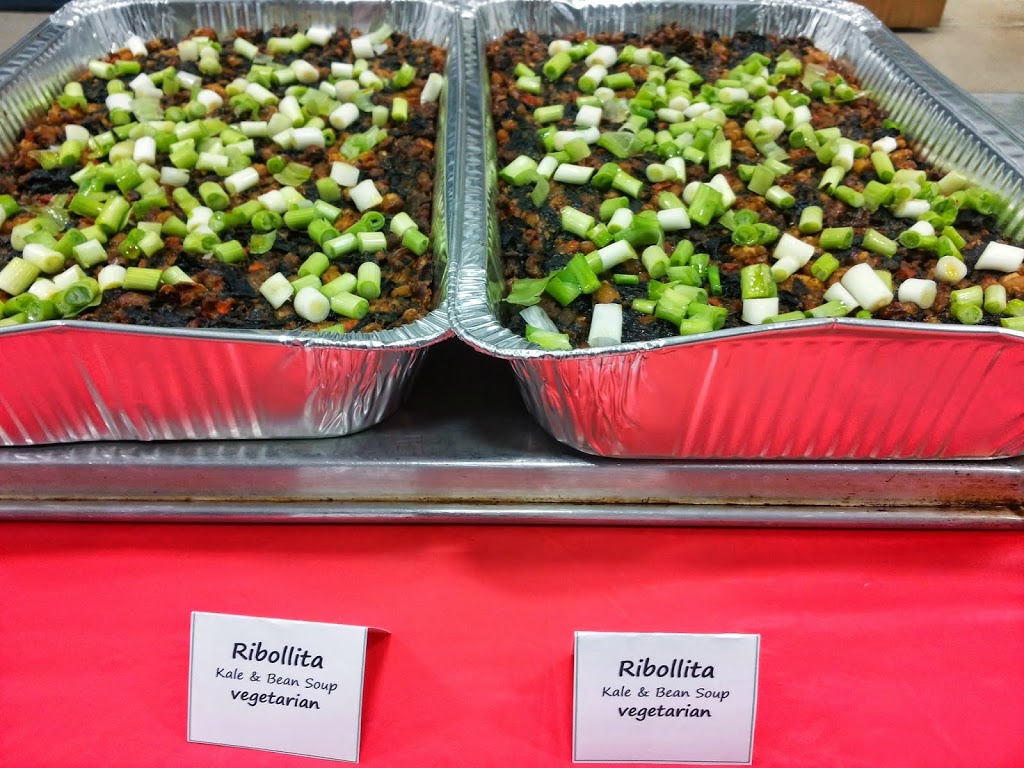 Ribollita garnished with green onions.
Photo credit: Amruta
 Ribollita is a very typical Tuscan "comfort  food". This vegetarian kale and beans  (cannellini) soup is usually made with leftover  bread. "Ribollita" means "reboiled." Click here for Chef Terzaroli's recipe!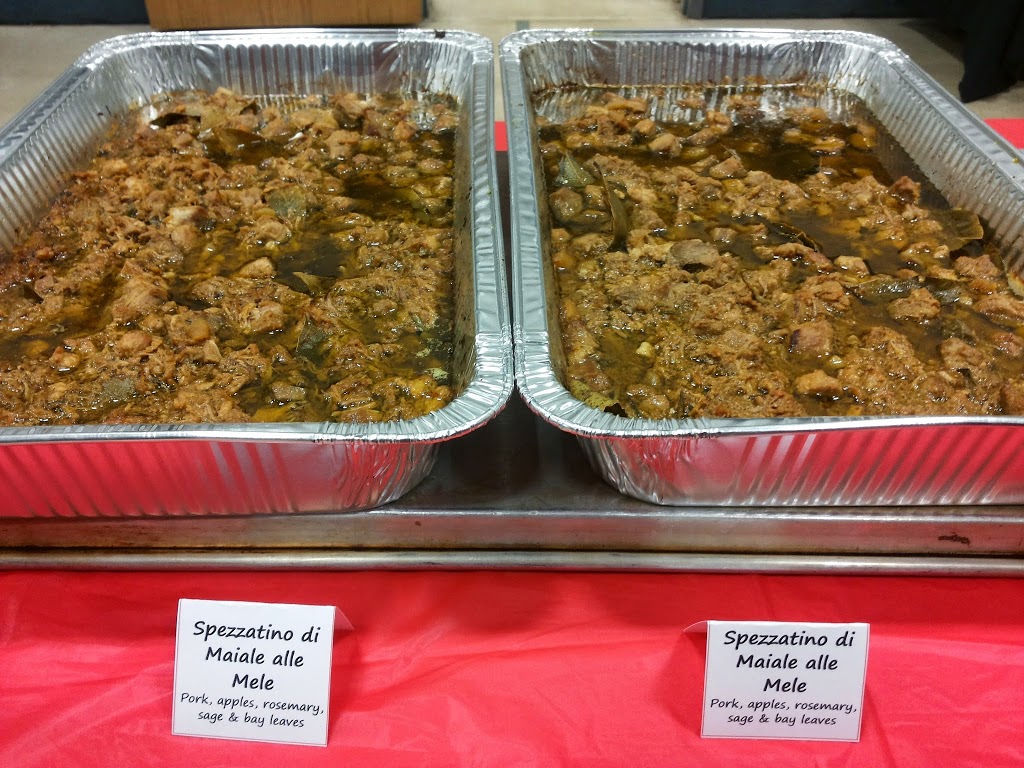 Spezzatino Di Maiale Alle Mele (Pork Stew with Apples)
Photo credit: Amruta
The pork stew with apples, another typical Tuscan dish. Click here for Chef Terzaroli's recipe!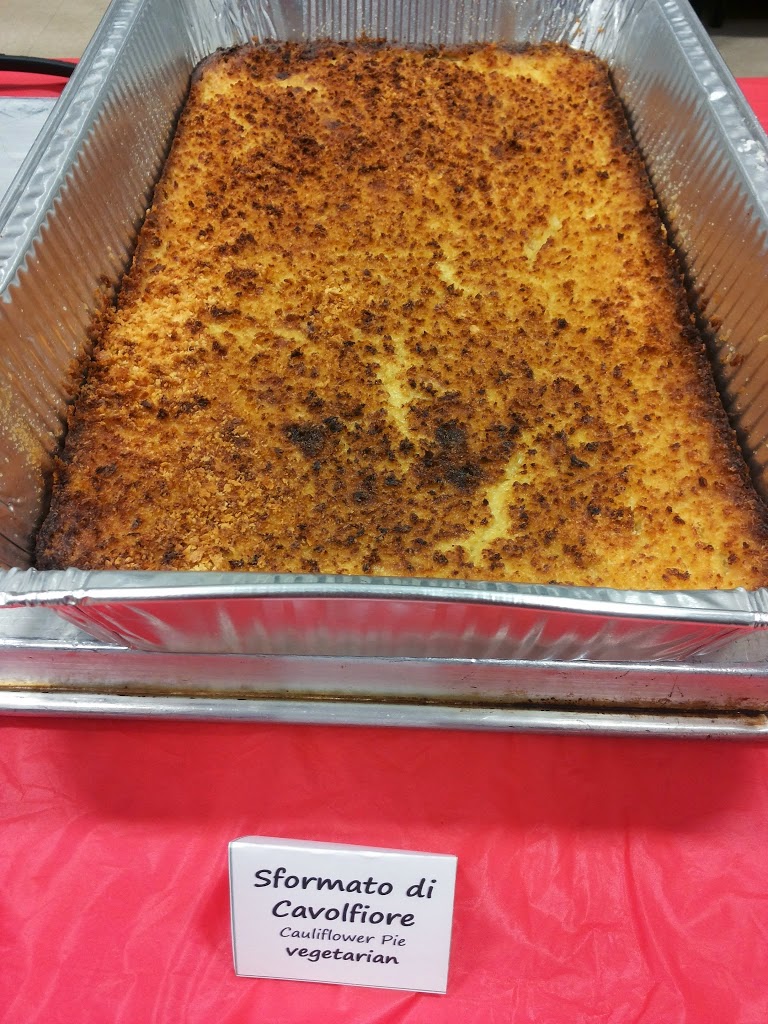 Sformato di Cavolfiore (Cauliflower flan)
Photo credit: Amruta
The cauliflower flan. Click here for Chef Terzaroli's recipe!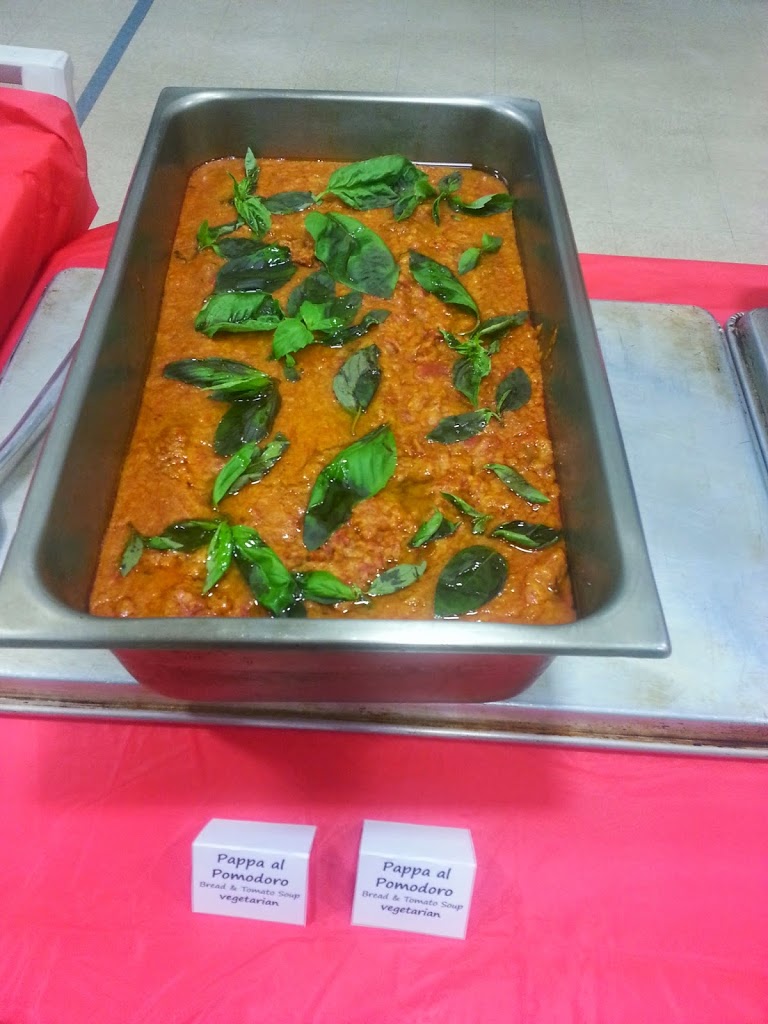 Pappa al Pomodore (Tomato bread soup)
Photo credit: Melike

Tomato bread soup. Click here for Chef Terzaroli's recipe!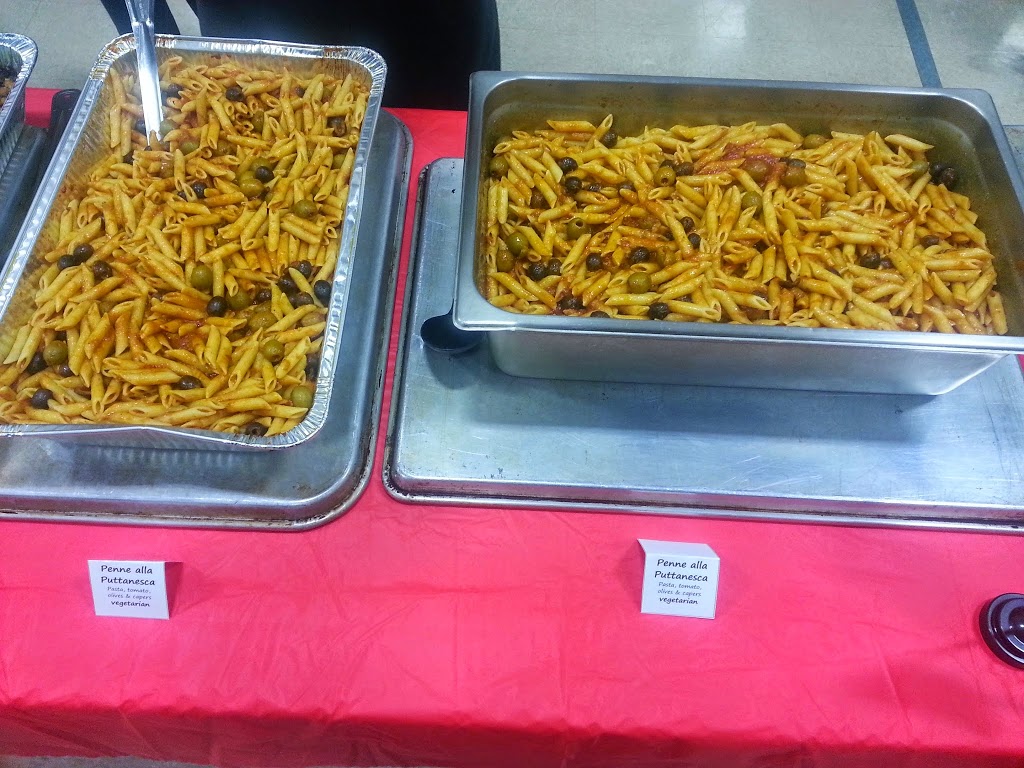 Penne Puttanesca
Photo credit: Melike
Penne Puttanesca. Click here for Chef Terzaroli's recipe!