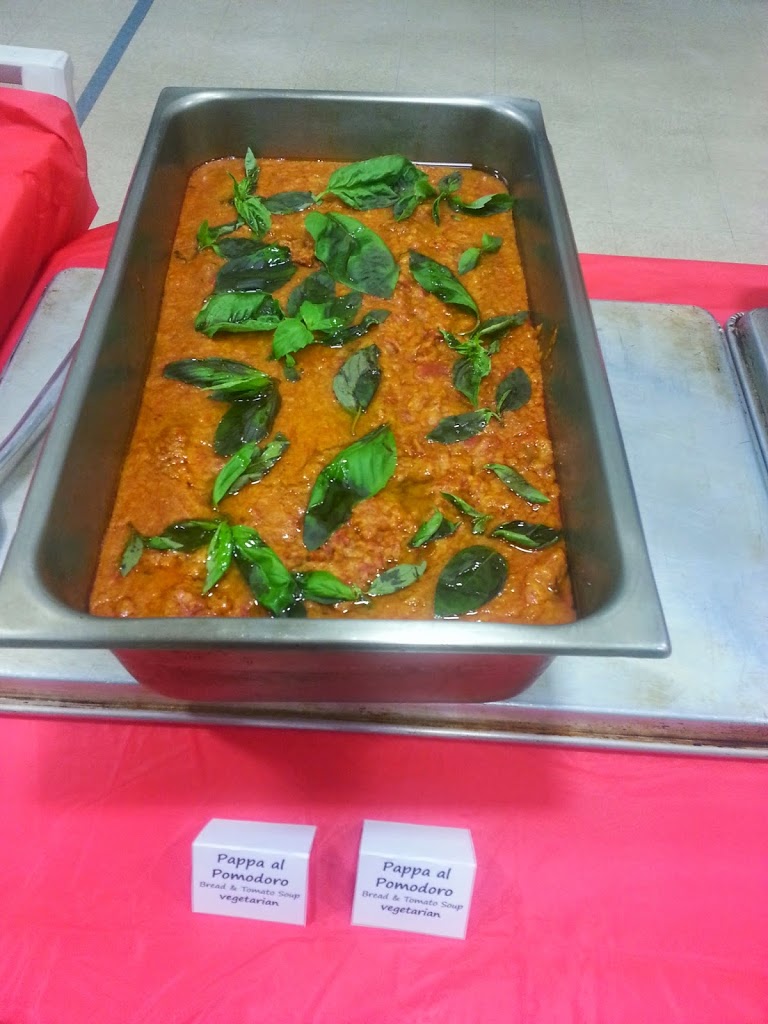 This recipe makes 4 servings (main course)

Ingredients:

3 medium golden onion — chopped
1 large bunch of fresh basil
1 cup extra virgin olive oil (I use Berio brand)
2 cans of whole peeled tomatoes (I use Flora Brand)
1 loaf stale Italian or Ciabatta bread (I use Wegman's bakery's bread)
salt, ground black pepper and crushed red peppers to taste
2 beef bouillons (I use Knorr Brand)
Preparation:

Heat the olive oil in a large pot and add the chopped onions, the bouillon, the crushed red pepper and the basil stalks. Stir and gently fry until the onions turn golden.
Mash the canned tomatoes in a food processor; rinse out the cans with a little bit of water, and add that to the mashed tomatoes.
Add the mashed tomatoes to the golden-fried onions. Bring to the boil and simmer for 30 to 40 minutes.
Meanwhile soak the stale bread in some water and tear it into thumb-sized pieces. When the pieces of bread are softened, take them out and squeeze them to drain the excess water. Add them to the pot.
Mix the soaked bread into the soup, and season to taste. Let the soup sit on a low flame for 50 minutes to 1 hour and keep stirring it frequently.
Once you achieve a silky, thick texture, the soup is ready to be served! Pour the soup into bowls, and garnish with fresh basil leaves and a generous drizzle of extra virgin olive oil.