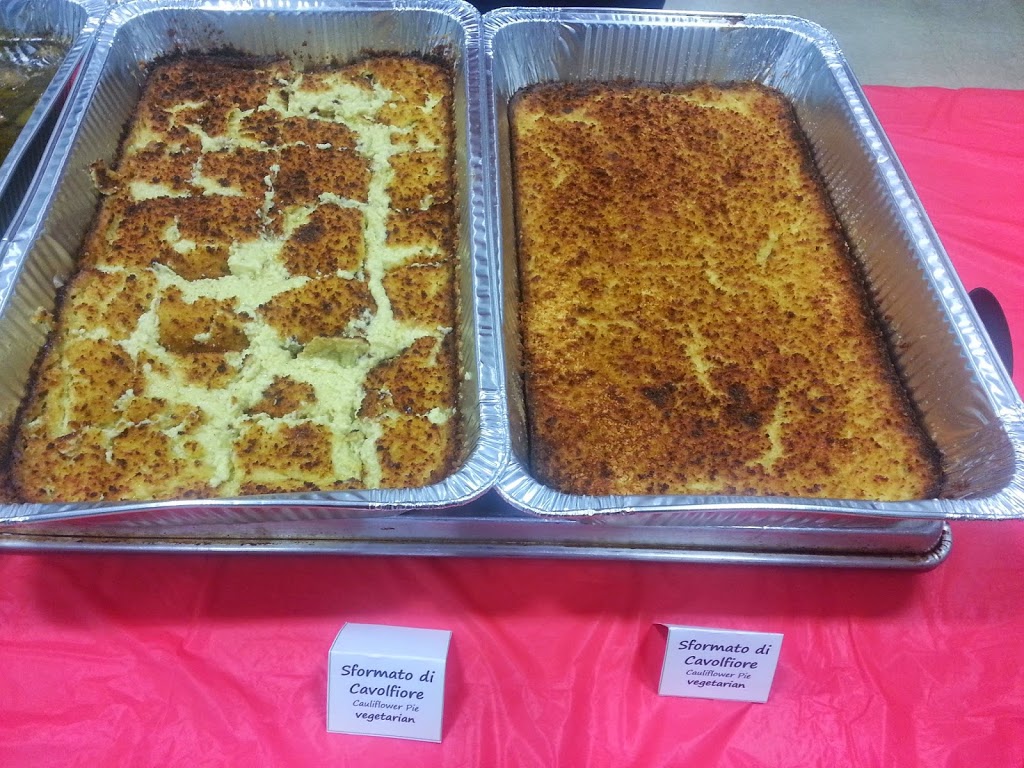 This recipe makes 6-8 servings (sides).

Ingredients:

1 big cauliflower — chopped into small pieces (discard the root and the leaves)

6 garlic cloves — peeled and finely minced

½ cup extra virgin olive oil (I use Berio brand)

6 ounces unsalted butter (room temperature to allow easy spreading)

1 cube of beef bouillon (I use Knorr Brand)

4 eggs

1 can of unseasoned breadcrumbs (I use Panko brand)

3 cups of Bechamel Sauce (recipe included)

Salt, ground black pepper (to taste)

Preparation:

In a pot add the oil, minced garlic and chopped cauliflower and cook for about 30 minutes until the cauliflower pieces are tender.

Keep stirring as you season with salt and pepper (to taste), and add the bouillon. The cauliflower needs to remain moist while it cooks, so add a very little bit of hot water while cooking. Do not add too much water!

Meanwhile, in a large baking pan, spread the butter on the bottom and generously sprinkly breadcrumbs over it.

Once the cauliflower is completely cooked, mince it in the food processor to get a fine, uniform mince. If the cauliflower has cooked completely, there will be very little moisture.

Add the Bechamel  sauce and the eggs, and keep stirring till the sauce, eggs and minced cauliflower are completely blended.

Place lightly this mix into the pan, and cover with a layer of breadcrumbs. Let it bake for 30 to 40 minutes in the oven (preheated to 375 degrees F). Check the top layer of breadcrumbs from time to time, until they are nicely toasted.

Enjoy!

Bechamel Sauce

Ingredients for 3 cups of sauce:

 1quarter hot milk (whole milk)

½ cup unsalted butter

½ cup all purpose flour

ground nutmeg, salt, ground black pepper to taste

Preparation:

In a small pot let the butter melt on low heat, then add the flour while whipping it very fast. Dissolve every lump of flour.

Add the boiling milk to the pot, letting it drip slowly while stirring steadily until the mix is uniformly silky.

Let it cook on low heat, always stirring continuosly. Make sure you reach into the edges of the pot! Stir until the sauce thickens into a dense cream.

Remove from the heat and season with salt, ground nutmeg and ground black pepper to taste. Continue to stir until it's at room temperature.