Guest contributor: Cristina Llopis from Spain
My name is Cristina Llopis. I was born in Spain 46 years ago. I am a building engineer, and last year, from August 2012 to August 2013, my family and I made a stay in State College.
I am married, I have a wonderful husband and 2 great children, Pedro and Aitana, 17 and 10 years old respectively. All members of my family went to the USA with a specific task….except me. My husband to research, my son Pedro to study his Junior year in High School, and my 9-year-old daughter Aitana to study her 4th grade at Park Forest Elementary School. In my case, spending one year abroad was in itself a complete challenge since I had to change from being a full-time employee, working 12 hours a day in my own architectural office in Spain, to having an empty agenda and all the time in the world for myself. So I arrived in State College with no professional challenges except becoming a housewife, a role that I had never played before.
I learned about the existence of Global Connections through a chat offered by Penn State. On August 30th I registered myself with Global Connections and started my path through their different activities.
Every Monday at 10:00 am I used to attend a conversation group called "English in Action" at Schlow Library. It was led by Helen Warren and Irene Cutler, both of them magnificent teachers, and charming people, who now are very good friends of mine. In this group I met Gozde Döver (my dearest friend) from Turkey, Anke Linz from Germany, and Tanuj Singh from India.
Mondays at 1:00 pm I participated in my first Book Club ever. It was facilitated by Hilary Rath. Reading has been one of the strongest pillars for improving my grasp of the English language. Hilary also became one of my most cherished friends. We have spent lots of time at her home, tasting international dinners, enjoying good conversations, and watching the movies of the books that we had previously read. Our group was very enjoyable with friends like Lucy, Amii, Lisa, Quian, and others.
Wednesdays I used to attend Cathy Dauler´s group at St. Andrew´s Church. Blessed be Cathy! Superb diction! I wish all Americans could speak as clearly as she does. I learned a lot about American history and culture. Among the most noteworthy friends, I  appreciated Vanda Hurnyi Mikoné from Hungary, and Amandine Carelle from France.
Vanda, Gozde and I joined another Book Club coordinated by Jeanine Trethewey and Deb Hager, both charming and wonderful friends. I'm hoping that the next coming year Jeanine and her family come to Spain. We had very good and nice moments and it was a delight the time we spent together.
And finally, I registered for the program "Conversations Partners." It was kind of difficult and Global Connections was not able to find a partner to exchange Spanish-English with me. So I was a little bit disappointed.
After Christmas, Vanda announced me that she was going to work as a volunteer for Global Connections. I told her about my disappointment for not having been able to find a partner to speak with and she said to me: "Don't worry, I´ll try to find someone for you." Thus, in February, she found Lloyd J. Short. Lloyd became my very best friend and the most important person to me so far. We started meeting once a week and ended up seeing each other every day. We have a friendship with lot of affinities, we shared laughter, dozens cups of tea, walks, films, theatre performances, and once in a while some beers. He has been my mentor in the skill of writing, helping me with my preparation for the TOEFL exam, and I have learned from him many things about English grammar. It is a pleasure to be with him as he is a very well educated man.  He is a great and a very interesting person.
After a whole year as a user of its services, I have to say that Global Connections not only has given me different tools to improve my English, but among its different activities I've met the best friends of my life. I've been immensely happy and I only have words of appreciation for Global Connections and for all the people that collaborate selflessly with the organization, especially all my affection to Vanda.
Again, tons of thanks for making my year so wonderful.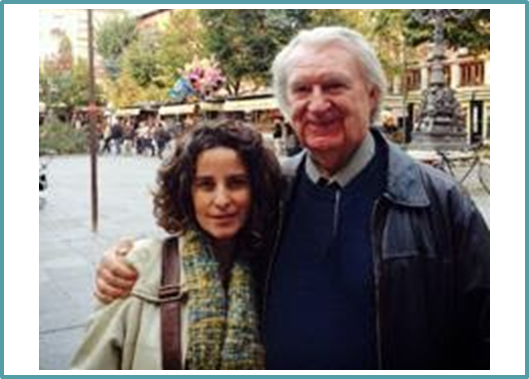 Cristina and Lloyd in Granada last November.
Photo credit: Cristina.