Guest contributor: Chitralekha Beniwal from India 
With excitement comparable to that of a 21 year old kid in a bar, I was exploring Penn State when I arrived in August last year. Clueless about what is where and eager to know where is what, I hopped onto Global Connections' Trolley Tour around campus during Orientation week. While getting to know the place better, Merrill and Tami talked about many things here and there; where the cameras on the Downtown lane are, where the Asian market and Indian store are, which are the new apartments in the town, where the Mall is and the constant debate if Meyer Dairy's ice-cream is better than that of the Creamery. 🙂
This was my first candid encounter with GC. With my always-willing-to-volunteer spirit, I signed up for various things. One fine day, I got an email asking if I knew how to cook, and if I would like to volunteer for GC's fundraiser, Passport On A Plate: Home Edition Dinners. It didn't take me even a minute to reply with my confirmation and sign up for an Indian Meal. No wonder I was apprehensive in finalizing the menu as per American taste buds. But as they say "All's well that ends well." It turned out to be an indelible experience for me where I could showcase an Indian dining experience and talk about our culture. The global connection had begun forming! 
Chitralekha showing children Indian arts and crafts
International Speakers Program, 2013
Photo credit: Chitralekha Beniwal
Meanwhile, during Orientation, I had talked to Merrill about how I enjoyed babysitting when I was back home and my interest in volunteering at a childcare center. She informed me about their International Speakers Program where the speaker goes to a school and speaks about his/her home country. Thrilled to know about the event, I signed up to be the one to represent India. Out of the mundane Grad life, I was sanguine about the awaited frenzy and chirpy tiny tots at the school. I took some pictures and few handicrafts that reflected Indian culture. It was indeed such a delight to see the chatoyant* eyes of the 5 year olds looking at the picture of an Indian wedding, their amazed looks when they saw the village kids' games, their fascination with the camel's picture! (*I thought I would use some of my GRE vocabulary ;)) However, I thought that the most bewitching part for them was trying out a 'saree'  — a type of Indian attire, which involves draping yards of cloth around the body in a specific way. The pretty girls looked even more beautiful draped in the saree. So much so, that even the boys wanted to wear the saree! 
As I was showing all the different pictures to one of the kids, we had a good conversation….. and guess what? He said he was going to ask me out on a date! Yeah, an adorable six year old kid liked me so much that he told me all his stories and said he wanted to ask me out! It was so surprising and so cute… I so wish I could meet his parents and tell them what a darling kid they have. On a whole, it was a really rejuvenating time out for me —- one that I shall cherish forever.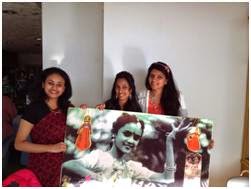 Anupama, Rahi and Chitralekha (Left to Right)
International Children's Festival 2014
Photo credit: Chitralekha
To get a chance to interact with the kids more, and show them more Indian arts and crafts, I volunteered for the International Children's Festival. I volunteered at the India table's mehendi stall and I was astounded to see the kids so eager to have mehendi applied on their small hands as their moms watched over them with affection.
The bigger picture of being associated with Global Connection is, I got to see American dining, American schools and meet people (adults and children) from different parts of the country and the world. At the International Children's festival, I — a Masters student! — was behaving more or less like one of those curious kids visiting tables from different countries and trying out or looking at the different games, clothes, stamps, food being offered at the tables. Like the kids, I had a great time!
I wonder if I would have known all this if I had not signed up for GC updates… If I would have had such enriching interactions with these different cultures and people…. If I would have met met Anupama, who happens to be a good friend now but I didn't know her before meeting her at one of the events…. More than volunteering, it has been a fun experience for me every time.
So much heart GC puts in planning and organizing its different events. It actually serves the purpose that the name defines. I hope I stay "Globally Connected" for the time I am here at Penn State….and beyond.