Guest contributor: Melike Faiz from Turkey
"Travel. It leaves you speechless, then turns you into a storyteller." ~ Ibn Batuta.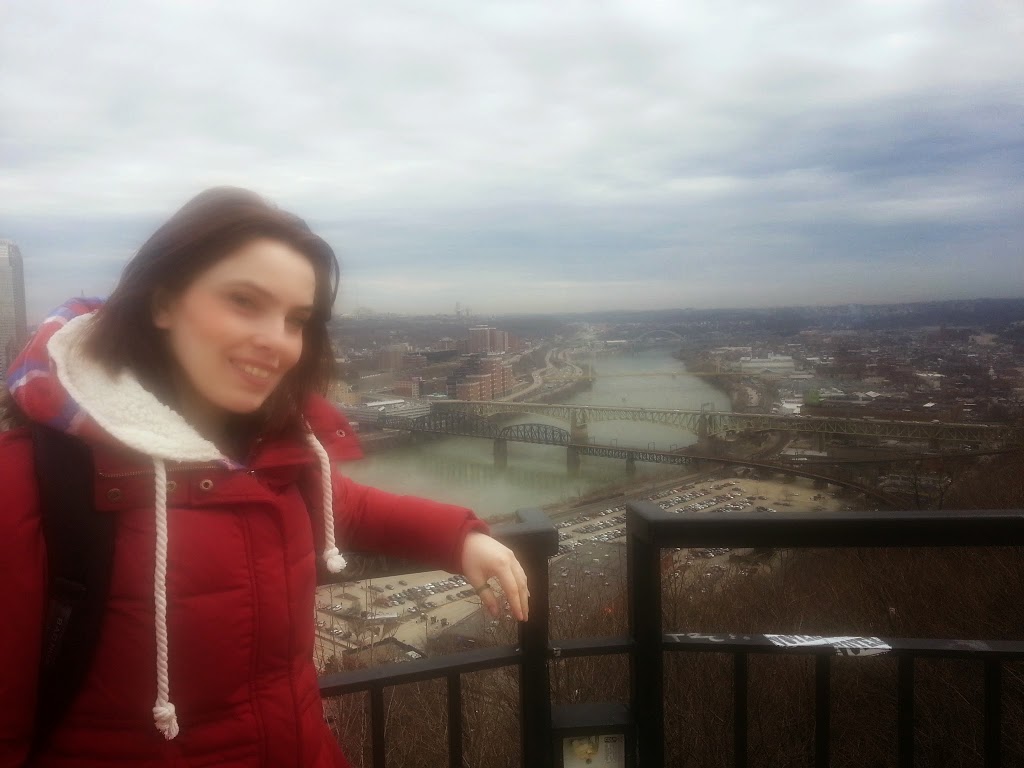 Melike at Mt. Washington, Pittsburgh
Photo credit: Melike
This was the first trip for me. I have spent 3 months in State College but I haven't traveled anywhere else. First of all I was very excited because I would be meeting my friends from Turkey! We didn't see each other for 3 months. I missed them very much and they were coming to Pittsburgh for their presentation.
I had gone to the Walmart on North Atherton because I bought a ticket from Megabus. It was really rainy and I was cold. When I was waiting for the bus I asked all people if they had seen the bus. Then one girl came close to me and asked to me ''Are you a passenger?'' I said ''Yes, I am very happy to see you''. So I have a fellow traveler. Then the bus came and we got on. When I had arrived Pittsburgh I called my friend to learn if they have arrived. But they haven't come yet. I looked at my watch and I saw the time was 12.00 am. So I have no chance to go to Starbucks. I went to a hotel (I don't remember its name). I was waiting about 1 hour. A manager came close to me and asked if I was a guest. When I said I wasn't, he said I couldn't wait in their lobby. So I left the hotel.
When I was waiting in the outside someone came next to me and talked to me. Actually I was scared because I didn't know him. He was giving me a suggestion to put my stuff in his room and eat something somewhere and call my friend. But I refused to do it. After this time my friends called me and we met. They told me they were late because they lost their way. We went to our hotel then went to sleep.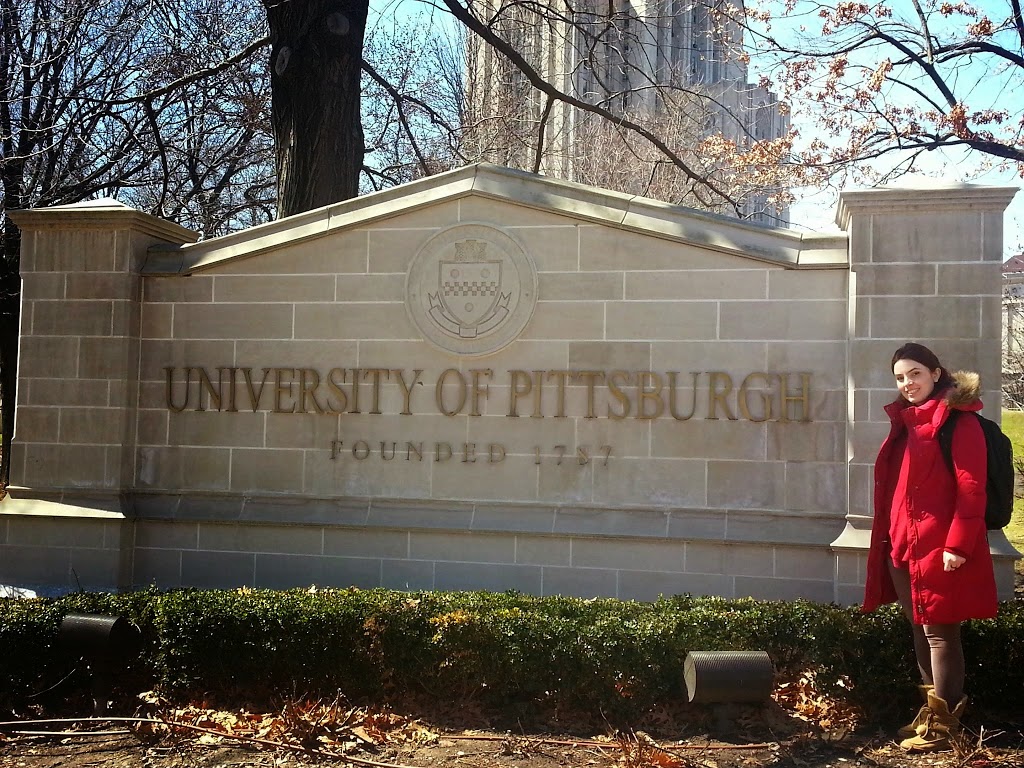 Photo credit: Melike
After we got up and had a breakfast. For the first day we were going to center of the city. When I compared State College to Pittsburgh, I saw Pittsburgh is really bigger than State College. I have seen many high-rise buildings. There are many museums. We saw only one museum – Carnegie Museum of Art. The strange amazing Cathedral of Learning which has 36 floors!! From 30th floor you can see the entire cıty. I took many photos. After the library and museums, we saw Mount Washington — an amazing place where you can see everything, just like the Cathedral of Learning. After this we visited University of Pittsburgh. I think its walls were ancient. And you know, all women like shopping. I bought a lot of stuff, all on discount.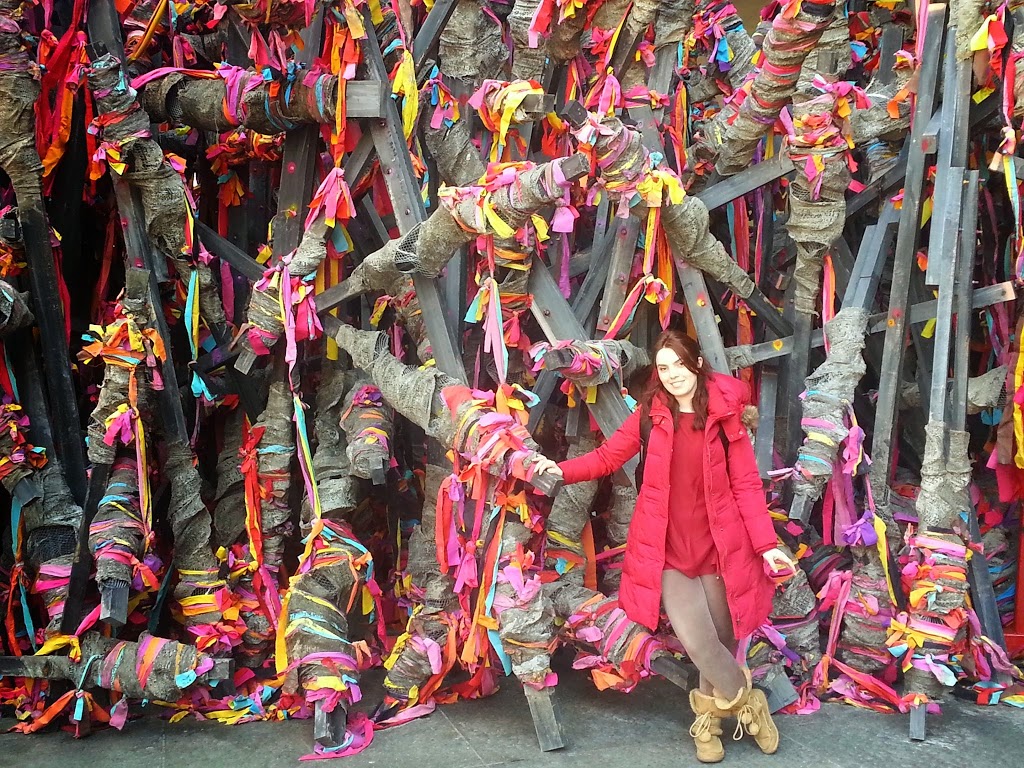 Installation outside the Carnegie Museum of Art
[Melike blends in very well!]
Photo credit: Melike
After shopping we had an accident — our tire burst! First I called my friend to ask what he could suggest us. He didn't say anything. We called mechanic to fix our car but it's really hard to explain to him what had happened. The mechanic told us they would come about one hour. So we have to eat something and some of us have to wait by the car. My friend and I went to buy some food. Then we ran and bought some food and came back.
Our car was fixed. After this we went back to our hotel. So this was the Pittsburgh part of my trip.