Guest contributor: Gaspari Cordova, A Humphrey Fellow from Belize studying Higher Education Administration, Junior Colleges, and Adult Education in the College of Education, Penn State University.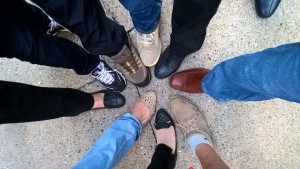 Anxiously waiting to receive the call that would change each of our lives, we felt like every day was an eternity.  It took courage to fill out the papers in order to take a leap into another land – a land that was awaiting us with opportunities and lots to explore.
Ten Humphrey Fellows, one by one, stepped off the plane to start their ten months of professional growth and friendship that would blossom into brotherly and sisterly love.  Each brought his or her own gifts and knowledge to empower those around them.  They packed not only clothing, but memories to share with those who would cross their paths. Welcome to our world, our "Walk of Life."  It may not seem like much, but the sacrifice for us to leave our families and friends behind was huge!
Welcome to "HAPPY VALLEY" we were told, as one by one we got off the plane then met in the hotel lobby. The flight seemed to take forever.  While I thought travelling eleven hours was bad, others had experienced more.  But we made it, and are excited to be taking our "Walk of Life!"
Meet the 2015-2016 Humphrey Fellows:
Ms. Angela Niazmand (Afghanistan) is Assistant Registrar at American University of Afghanistan in Kabul.  She is focused on higher education administration best practices.
Mr. Hamza Koudri (Algeria) is Civic Engagement and Training Specialist at World Learning in Algeria. He is interested in student affairs, curriculum development, internships and service learning in higher education.
Dr. Shahin Bayaramov (Azerbaijan) is Vice-Rector for International Affairs and Programs at Azerbaijan State University of Economics.  He will explore higher education administration of international programs and partnerships.
Mr. Gaspari Cordova (Belize) is Ethics & Tourism Marketing, Agriculture and Natural Resource lecturer in Belize.  He is focused on higher education administration, junior colleges, and adult education.
Ms. Flor Olivares (El Salvador) is a teacher and Coordinator of the English teaching minor at Universidad de Oriente in San Miguel, El Salvador.  She aspires to increase internationalization of higher education in the eastern region of El Salvador.
Mr. Amir Abbas Dehghan Banadaki (Iran) is an English lecturer at Islamic Azad University in Tehran, Iran. He wants to examine multiculturalism, curriculum development, and international standardized testing of English during his Humphrey year.
Mr. Humberto Carro (Mexico) is an Education Administrator at Universidad Tecnologica del Valle de Toluca, Mexico. He is interested in international education, higher educational administration and institutional communication.
Ms. Aisha Suhail (Pakistan) is the Head of Access to English Language Programs at CARE Foundation in Lahore, Pakistan.  She is focused on teaching English as a foreign language.
Mr. Muhammad Saeed (Pakistan) is an English lecturer at Government Degree College in Swat, Pakistan. He seeks to improve his English language teaching.
Dr. Maria Teresa Bautista (Philippines) is head teacher in the English department at Bacnotan National High School in the Philippines.  She is focused on English language teaching.
The Fellows are all excited and ready to meet new people. Please feel free to approach them and ask questions.  They are well-versed in the area of their field and willing to either share their experience as a special invited guest speaker, or talk in a group activity.