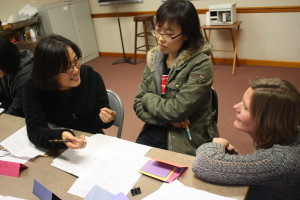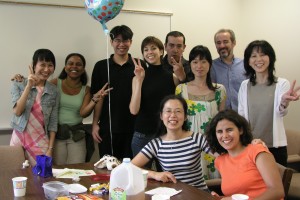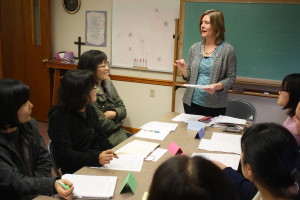 Global Connections' English Language Classes provide individuals with the opportunity to practice English speaking and listening skills in an informal classroom setting. Classes are offered weekly and are taught by experienced Global Connections volunteers. Levels range from beginner to advanced. All classes are intended for adult learners, unless otherwise noted. Older (teen) children may also benefit from the classes, but interested individuals should contact the teacher privately to see if they are willing to include younger students.
Participate in an English Language Class
To register for an English Language Class, please first contact the instructor of your desired class to inquire if the class has openings for new students. You can find this information below. If the teacher invites you to join the class, you will be asked to fill out a registration form when you attend your first class.
Unless noted, all Global Connections English Language Classes are FREE and open to all. Classes are ongoing and participants can join at any time. If childcare is needed, contact us or the teacher to discuss possible arrangements. Please click "Download 2019 Schedule" below for class details including the teacher contact information.
Spring 2019 Classes
Mondays, Begins January 14, 10:00 AM – 11:30 AM
Schlow Library Community Room, 211 South Allen Street
Taught by Helen Warren & Irene Cutler
Intermediate/Advanced – Focus on English Conversation
Tuesdays, begins January 15 , 10:00 AM – 11:30 AM
State College Municipal Building, Room 220, 243 South Allen Street
Taught by Bob Persiko
Intermediate/Advanced
Wednesdays, begins January 16, 10:00 AM – 12:00 PM
St. Andrew's Episcopal Church, 208 West Foster Avenue
Taught by Cathy Dauler
Intermediate/Advanced
Wednesdays, begins January 9, 1:00 PM – 2:30 PM
State College Municipal Building, Room 242, 243 South Allen Street
Taught by Steve Sinsley
Fridays, begins January 11, 9:30 AM – 11:30 AM
Contact teacher for location
Taught by Jane Jantzer-Wilson
Cooking Together – Cooking from the Garden and Outdoor Grilling
Global Connections also maintains a list of private tutors and editors who charge a fee for their services. Global Connections does not recommend any one teacher over the other, and does not verify or guarantee their credentials. Please contact private tutors and editors individually, not through the Global Connections office.

Volunteer as an English Language Class Teacher
Global Connections welcomes native English speakers with a background in education or teaching to volunteer to teach a class. Training can be provided. To arrange a meeting, please contact us.