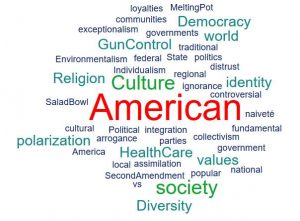 All are welcome to join in the fall kick-off session of a weekly discussion group called Making Sense of the American Experience on Tuesday, August 27 from 12:00 – 1:00 PM in room 201 of the State College Municipal Building (243 S. Allen St). 
The topic for this session is racism, white supremacy, white nationalist, and other terms that have appeared frequently in the news in the past several weeks. President Trump was accused in certain media of being a racist, and one journal said that anyone who supports Trump is also a racist. White supremacists have been labeled by some as domestic terrorists. We will try to define these terms and discuss how they are interpreted and understood in the context of current events. We'll also explore how these terms relate to what's happening in other countries.
Discussion group meetings are free and open to the public. Both Americans and internationals are welcome to join in the discussion. If you can't make this session, don't worry! This group meets on a weekly basis and you can come when you can.
If you'd like a reminder about this event, please respond to the Facebook event.