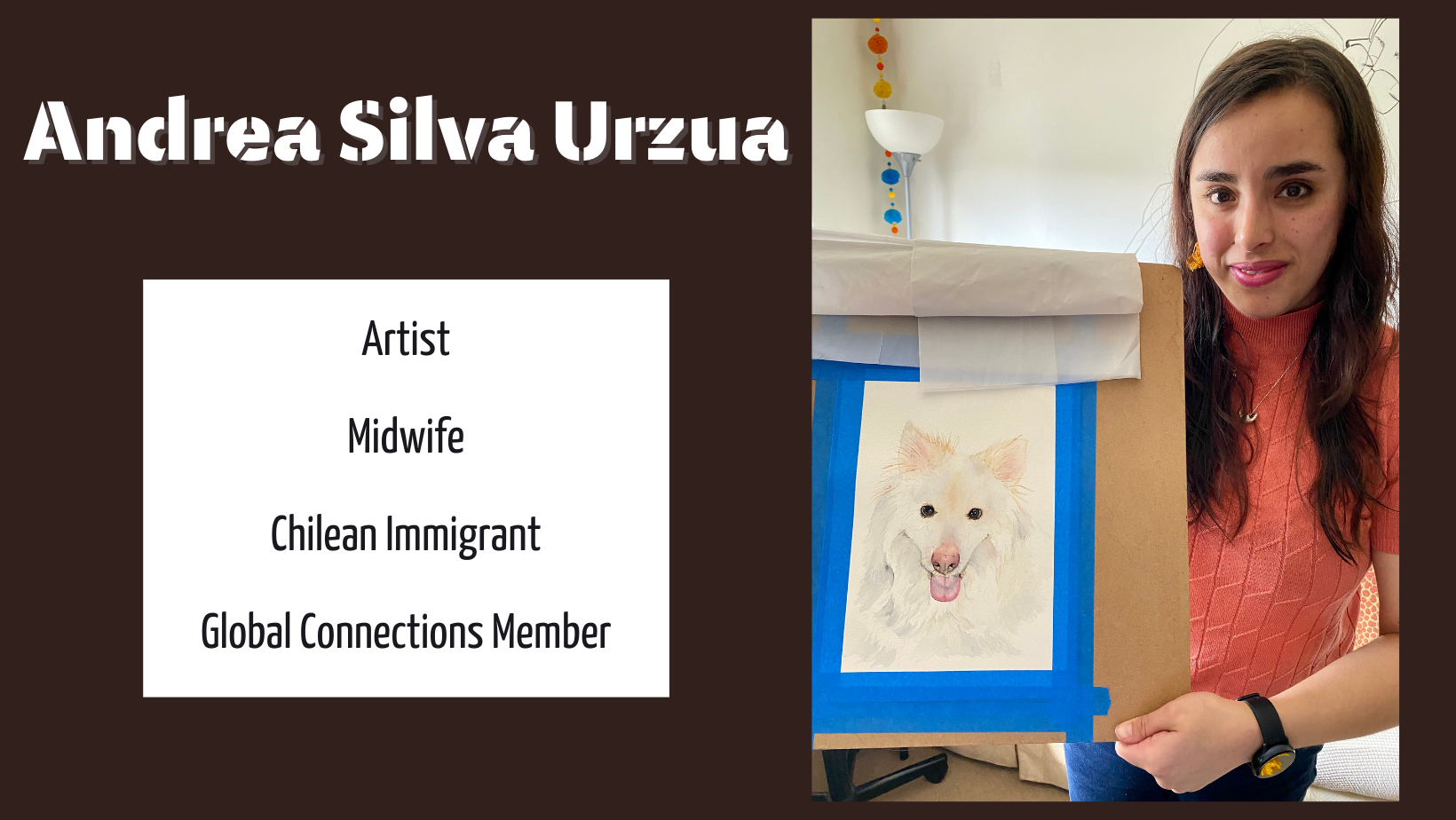 In this life we should not be limited to other people's expectations. We should always have the right to expand. The chance to be better, and bigger. To be whoever we want and, especially, someone who makes the difference wherever we go. Andrea Silva is exactly like this. Is she an immigrant from Chile in the USA? Yes. She is also an amazing artist. She is a midwife, a mother, and a strong woman. An example that human being is multifaceted, intelligent and capable of many things.
Andrea moved to State College in 2016. She came with her husband Thomas, who was a PhD student at Penn State. Living abroad, in the beginning, was hard. Andrea barely could speak English. She felt lonely and sad for not being able to make new friends. She also missed her work as midwife and started losing her confidence. It was when she started learning English at Mid State Literacy School.
Researching on the internet she found Global Connections. She became enchanted by the possibility of trying different meetings, like craft activities, and English classes. She wanted to be able to speak English as fast as she could. "I tried to get evolved because I thought it would be fun and they would have more activities that I could do by myself. For example, it was fun to do a craft activity while learning to speak English." At that point Andrea didn´t dream about the possibility of one day being an artist.
In these classes, Andrea met her best friend in the USA. "When you are living abroad, the connections you have, like friendships, are different from the ones you used to have in your home country. You have to work hard in order to meet people, to expose yourself. Sometimes, when your English is not that good, you feel ashamed that you are not talking or people will not understand you. Because we were in the same condition (international people at Global Connections) it was easier for us to understand each other. We knew it was difficult for us to express ourselves in English", says Andrea.
"Global Connections was important for me not only to learn English. It was important for the people I have been meeting this whole time, and also because my husband had his connections at the University. Finally I could have my own connections, find a place where I can feel secure, where I can express myself."
In 2018 Andrea was feeling homesick. At that moment she decided to take part in an internet challenge. She painted and won that challenge. That was the beginning of her passion for painting with watercolors. "It gave me some kind of relief. I started painting a little bit every day." In 2019 she went to Chile to work as a midwife. While there, she decided to have painting classes. "I feel that watercolor saved me. I found some purpose in my life. My heart is full now."   
She remembers her path. "In the beginning I couldn't see painting as a gift. I was trying to fill some spaces. My work (as midwife) was very important, it was all my life. Here I was not having this same feeling. I really liked to help people. I didn't have that same purpose and it was hard. And, at some point, the watercolor came to me and saved me." She spent eight months in Chile.
 After returning to the USA, Andrea started painting more regularly. In 2021, during the pandemic, she was pregnant. At that point, she started to think about her art more professionally. Also, she started meeting other artists and people who enjoyed her work. She started to build new connections in this art area. "I´m glad that this community (State College area) has space for local artists. There are so many great artists here. Everyone has different paths and you can show to people what you are doing."  
Now, Andrea is the proud and lovely mother of two beautiful kids: her son Ernesto and her amazing art. "Ernesto is a gift. He changed me. I am not the same person I was before. I think now he gives the energy to do things. I want to prove to him that I can do it and he also can be whoever he wants. Even though I discovered I want to paint later in my life. He knows that his mother can do whatever. I can be a midwife. I can be a painter. If you really try you can do whatever you want in your life. Now he is my muse." 
About Global Connections, Andrea tells how important the organization became to her life. "Global Connections has always been by my side. It is like a second family. It is something that you don´t think that you will have in a place so far from your home country. It's a very good resource for international people. I'm very happy to have found them. I'm very happy with the friends and family I met there. I'm especially glad for the teachers. Bob (Persiko), for example, was always so supportive. He believed in me before I could do it. I´m very grateful for that. I couldn't see myself without this organization in my life."