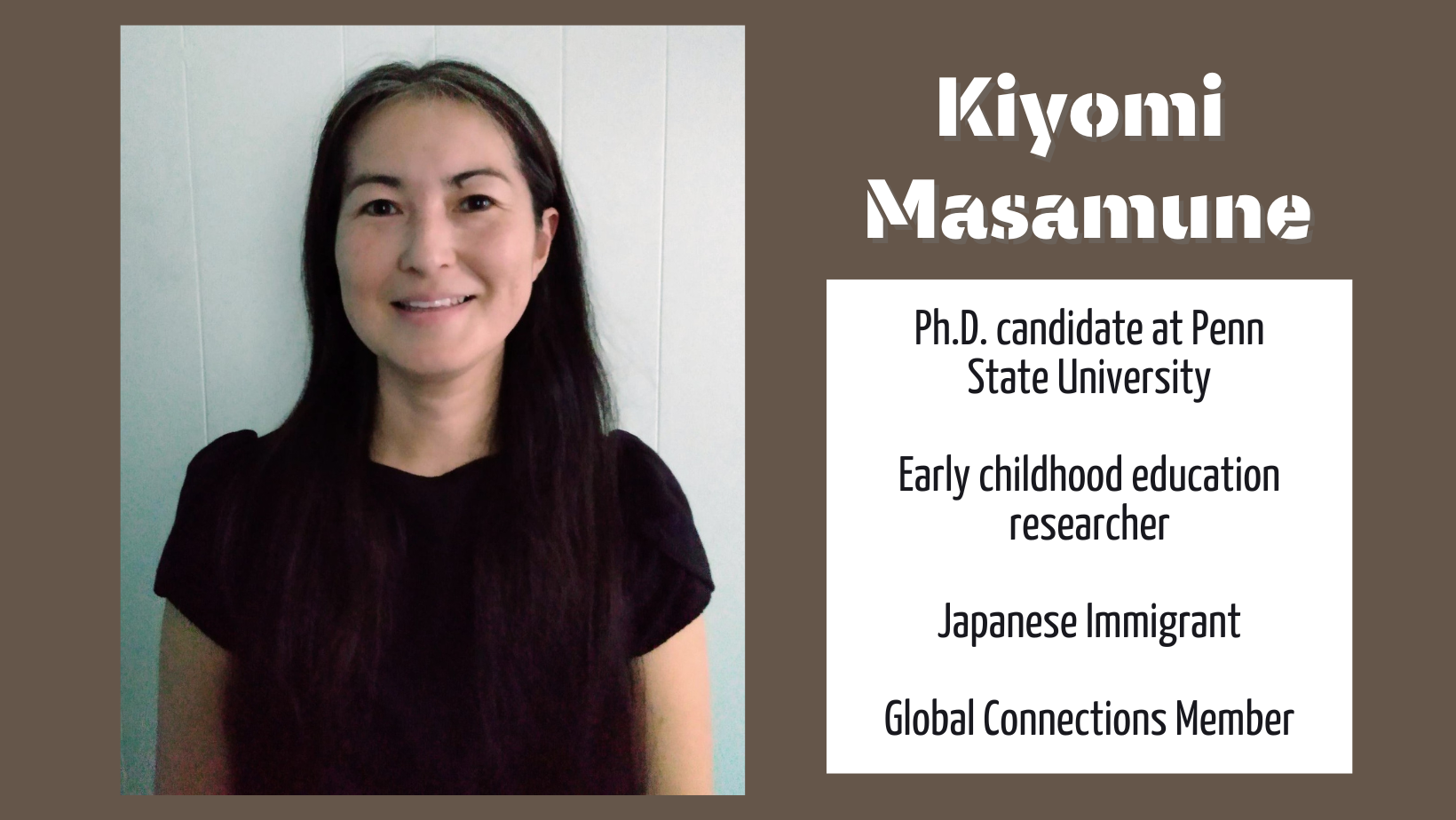 This gentle yet influential woman has found in education the opportunity to contribute to society and transform the world we live in. We recently spoke with Kiyomi Masamune, a Ph.D. candidate at Penn State University, about her long experience living abroad.
Kiyomi is from Tokyo, Japan. Before coming to the United States, she lived for a few years in England and Italy. Living in Europe, she could understand personally the challenges of living abroad. It also brought her knowledge about the diversity of cultures due to her contact with different communities in the West.
Kiyomi and her family arrived in the United States 17 years ago. Her first home was in Worcester, MA, because of her husband who got a position as a visiting professor at Worcester Polytechnic Institute (WPI). We asked about her first impression here in the US, and she said, "I made a lot of mistakes when I first came to the United States because I didn't speak English so much. And the first impression, the first morning I went to a supermarket and I got a box of donuts and they were so tasty. I thought, oh, I think I can survive here. It has such good food." She laughed and continued saying, "Also, there are a lot of green spaces in big cities, which reminded me of Tokyo. So, that first impression was good."
We asked if she ever felt sad or lonely living in the US, but due to her previous experience abroad she did not find it so difficult. She said, "I had already experienced being away from home. So, when I first came to the United States, I didn't feel so sad because America can offer a feeling of welcome. Meanwhile, Europe for me is like Japan with a long history, which for me makes them similar in some aspects."
Even after living so many years abroad, what still makes her feel homesick "definitely food." She said, "So, I started to feel it when I got older. I left my country when I was 24, and until recently, I didn't miss Japanese food so much. However, nowadays maybe my body system is getting older and I would like to go back to my original, I think. Yeah, so I do not want to eat out because what US restaurants can offer cannot satisfy me anymore. So, today, I prefer to cook a simple Japanese meal for myself." Also, in order to avoid and reduce homesickness, she talks with her family in Japan at least once a month by video call.
Three years after having arrived in the USA, she moved to Altoona. She expressed with a smile that she fell in love with that place, and she decided to specialize in early childhood education. Her desire to work and start her research in the education field emerged from the experiences that she faced raising her daughters in the US. These experiences came from the challenges to raise bilingual children, which not just involve the relation between home and community but also the relations in the school that demand daily effort for foreigners.
Her involvement with Global Connections is recent; actually, she started nine months ago when she felt the need to enhance her writing skills due to some issues that she faced on her academic journey. Besides that, she had the opportunity to meet Bob Persiko, who encouraged and helped her with her academic writing.
Regarding Global Connections, she mentioned being very grateful and appreciative for the opportunity that the program gave to her to deliver a presentation about herself and her cultural experiences at the GC general membership meeting in April. In addition, she recalls one moment when delivering the presentation where a woman from the audience told her, "I'm really glad you presented today because my experience is very similar. And I didn't have any chance to recognize it."
Until that moment, Kiyomi was not sure if the audience was listening to her presentation. When she heard that comment, she felt honored and emotional because her story could be valued and encourage other people. She also felt pride in motivating other Asians to break out of a stereotype. She says, "That's one of the reasons I wrote my paper to encourage others, especially East Asian women who tend to be very quiet and have the reputation to be very obedient and quiet in class. We can go out of that stereotype. So, if I can inspire at least one person, it is wonderful. So that is the thing I appreciate a lot about Global Connections."
To conclude the interview, we asked her about the best part of being a Global Connections member, and she said, "The best part is that I can connect with people around the globe, and also to get to know people from other countries personally, not just through the media."