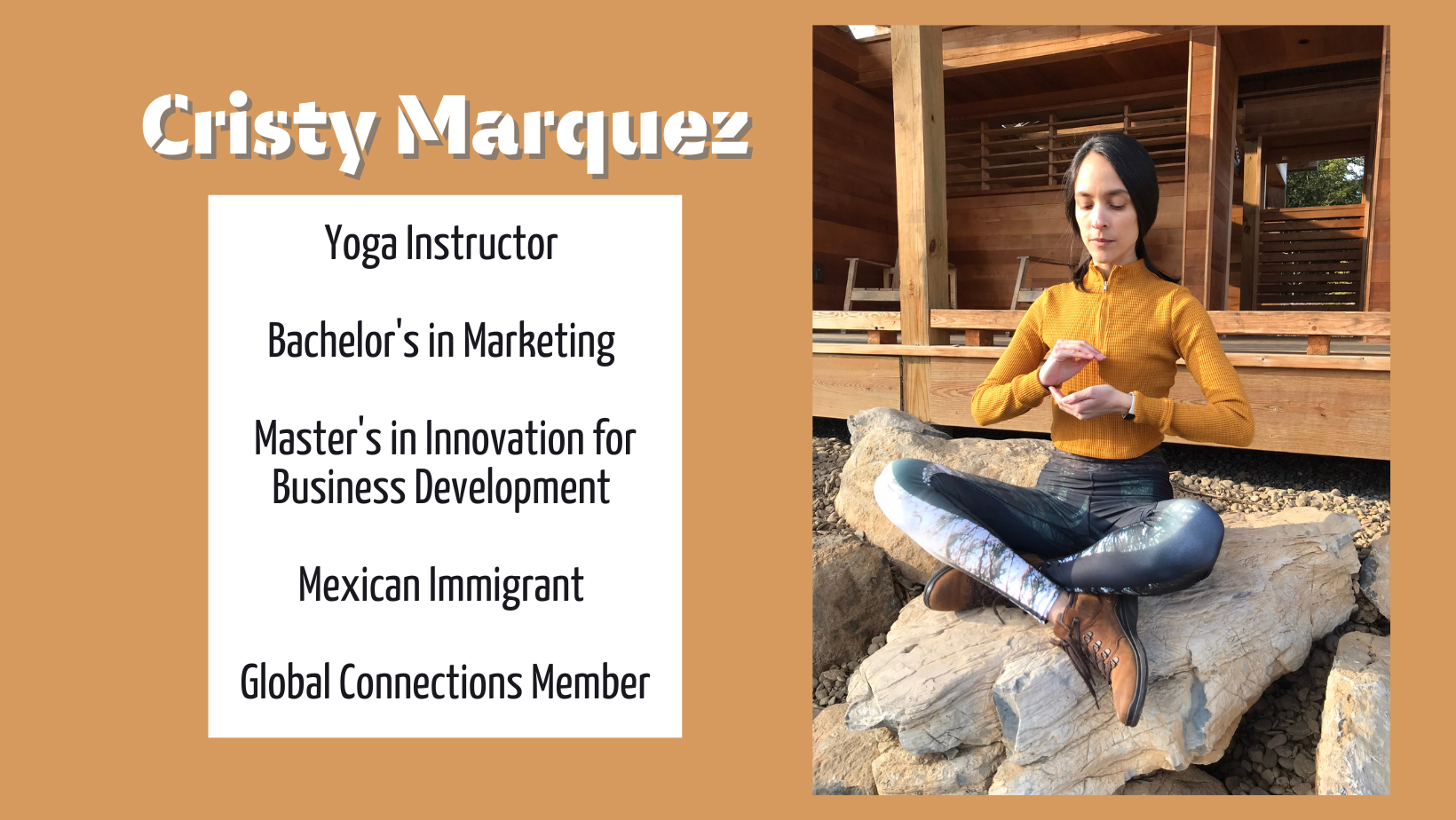 Resilience stands out among the many words we could use to describe this amazing person. Her name is Cristina Marquez, also known as Cristy. She is a kind-hearted woman from Mexico. She earned a bachelor's degree in marketing and a master's degree in innovation for business development. Interestingly, today she is among us spreading self-awareness and love through her yoga practice.
Cristy is from Ciudad Juarez, a desert city at the border with the US that is industrially developed. About three years ago, she moved to State College. She made the decision to go along with her husband, who began his Ph.D. studies at Penn State University, in order to take the opportunity to learn new things and learn more about other cultures.
In the past, Cristy had the opportunity to visit the United States, but her experience living in Pennsylvania has been quite different. One interesting feature of this new life has been the immersion in the English language, which helped her to develop her communication skills. Another one is the calm university town with an international environment, surrounded by nature with a different climate and landscapes than what she was used to.
We asked her if she has ever felt sad or lonely living in the US, and she said, "The homesick feeling just came last year (December 2022) because I could not see my family for Christmas." However, she added that the community brings support to her. English classes, a discussion group, and other activities have helped her to reduce these feelings. "That's why I'm really grateful for the friendships these activities give me." She adds, "the beauty is to be surrounded by these amazing friends from all over the world. We share a sense of family because we are in the same situation being abroad and far from our loved ones."
We also asked her if she had experienced any cultural shock because of the differences between America and her home country. She explained that because she came from the border with the USA, she had already a good sense of how things work here. Perhaps the "shock" was more about how the university town operates in contrast to her city, which is very dynamic.
When we enquired about her journey in yoga, she mentioned that while living in Mexico, she was a Business Program Advisor and a teacher of the Department for Freshmen Students at TEC of Monterrey University. She had already tried yoga classes, but back then she did not have enough time to dive deeply into it because of the day-to-day rush. When she moved to State College, things changed. While the pandemic was still going on, she attended yoga classes at Penn State via Zoom. She then began exploring other yoga events happening in the neighborhood, and that is how she found out later about YogaLab studio. Then, a chance came up and she received a scholarship from them to become a Certified Yoga Instructor.
What does yoga mean to Cristy? "Oh, I think it is my happy place because it's something that I really enjoy. It allows me to be creative and it keeps me honest with myself, motivated, and enthusiastic". She also added, "teaching gets me out of my comfort zone, which is good to continue learning from people and their practice". Moreover, Cristy wants to keep studying new methods, techniques, and understandings in the yoga field to apply in her classes. "I would like to bring more knowledge into my teaching, to connect and offer more options to my students. Meditation is also a path that I would like to delve into in the near future. Regarding this topic, I recently finished a Mindfulness Stress Reduction program at PSU that will be very useful for this purpose."
She not only brings her sensibility through yoga, but she also beautifully connects with her soul through dancing and music. "I love to find joyful music moments during my day, like activities that invite me to move freely, maybe adding some dance steps to keep the experience positive and charming. Even the supermarket can be one place where I can get these micro-moments of bliss."
Her involvement with Global Connections started two and a half years ago. Her husband, who arrived first to the area as a Ph.D. international student, learned about the organization at a University fair and sent her the information. She contacted GC while still in Mexico, and when she arrived at State College, she began her journey as a participant in its different activities, and as a member.
We asked her how GC has supported her during this journey, and she said, "It brings me a sense of community, for example being part of the discussion group Making Sense of the American Experience, has allowed me to share ideas and culture in an open, safe and friendly space. That's why I believe its name truly encompasses what it seeks".
Finally, we asked Cristy what is the best part of being a GC member, and she told us that she loves the great wisdom from people and the sense of belonging. "Here I feel embraced and encouraged, for example, when I have asked Bob (GC President) for advice, he promptly is willing to assist me!" For some, this may seem simple but it is not common to receive this kind of support and help anywhere. As a final thought, she left us with the following Mother Theresa quote: "Love cannot remain by itself – it has no meaning. Love has to be put into action, and that action is service […]"